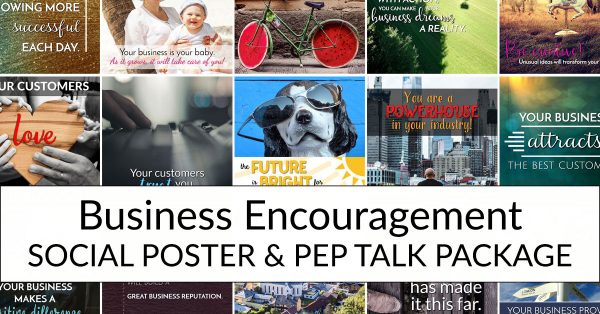 Creating motivational content and getting it out to the masses is hard work, but now it's possible to be a "social cheerleader" without breaking a sweat!
The Business Encouragement Social Poster & Pep Talk Package was created to help encourage business owners. We originally had business coaches in mind during the creation process because we know they're always looking for ways to encourage their clients.  Then we realized that almost everyone knows a business owner that needs a supportive burst of positive energy.  Whatever your title is (coach, blogger, etc.), you can use this package to encourage others and be encouraged!
This is a large package, so we'll break it down into sections…
15 SOCIAL POSTER DESIGNS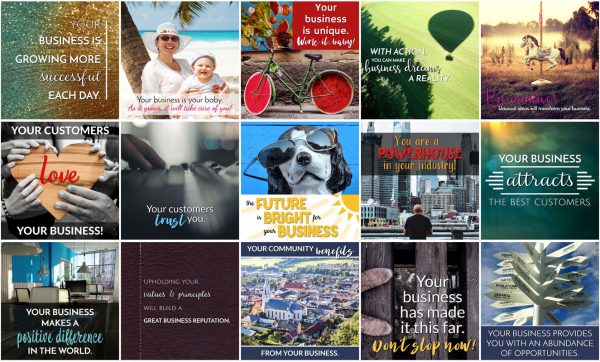 Click To Enlarge Sample Image
Each image comes in 3 Formats (JPG, PNG Text Overlays, PSD)

Use the JPG images on your blog and social media.
Use the PNG text overlays with your own background images.
PSD files allow you to edit everything about the images, including text and font.
We've Made It Easy To Be A Social Sharing Ninja!
We've designed every image in FIVE different "PERFECT FOR THEIR PURPOSE" sizes. Each motivational poster in this package comes in these five social friendly sizes: Facebook, Twitter, Instagram, Pinterest, and YouTube/Slide.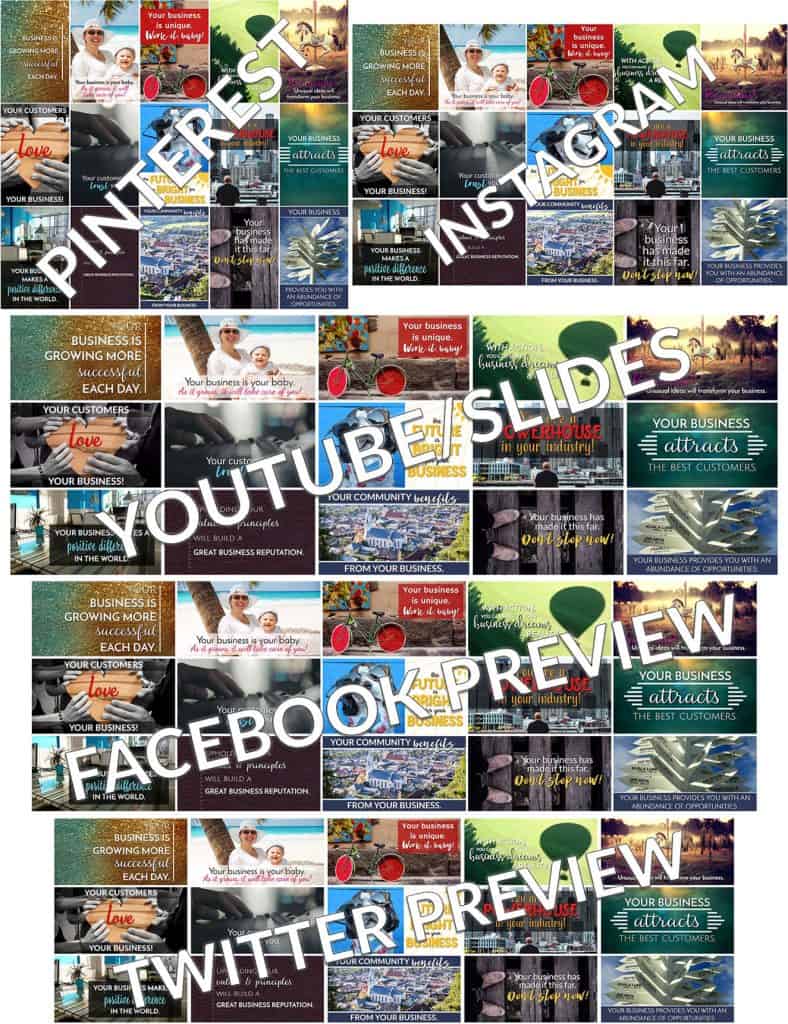 Share these images with some great content on your blog and set it up to share the correct-sized image to the top social sharing networks – automatically!
OHHH… YOU DON'T KNOW HOW TO DO THAT?  We do, AND we've created a BONUS personal use tutorial showing exactly how it's done.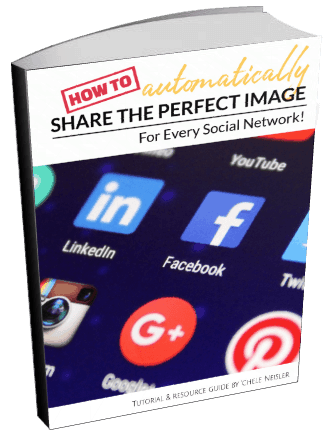 How To Automatically Share The Perfect Image For Every Social Network (Bonus Tutorial)
If you're more of a "post it directly to social media" person, you can rock social media with images that fit the top networks.  Size recommendations for direct posting are included in the tutorial to help you make the best use of your time.
We highly recommend reading the tutorial to benefit from both types of traffic with minimal effort.
These graphics are ready to go! No need to resize the images. Everything is completely done for you and INCLUDES PRIVATE LABEL RIGHTS!
15 INSPIRING PEP TALKS
Each of the 15 poster sets comes with its own corresponding pep talk. Combining your posters and pep talks will allow you to make the greatest impact on the people you share them with.
Send them out together on social media or in your newsletter to quickly put a little pep in your readers' day like this example: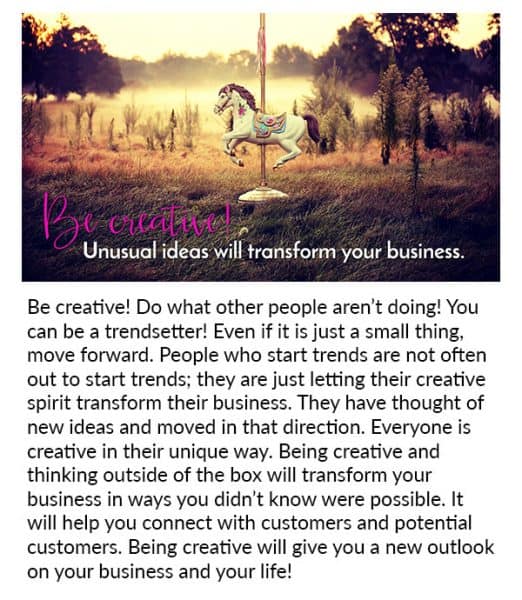 We've provided a total of over 1,600 words of encouragement for you to work with. Use them as inspiration for a meaty blog post!
EXCEL TRACKING SHEET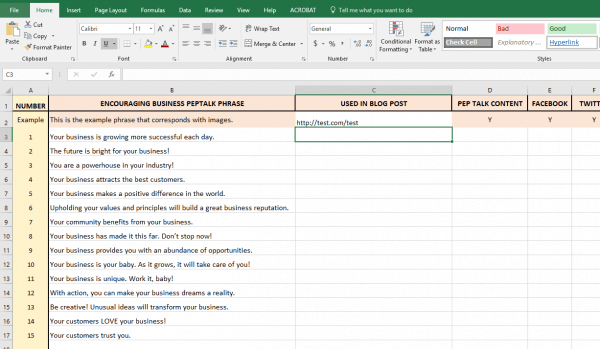 Keep track of when and where you've used the posters and pep talk content.
Make sure every single piece of content is used to maximize exposure.
RECAP: Business Encouragement Social Poster & Pep Talk Package: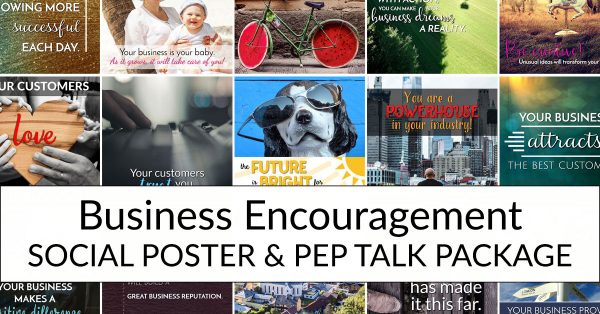 15 Images – Facebook Size (1200×628 px) in JPG, PNG Text Overlays, & PSD
15 Images – Twitter Size (1024×512 px) in JPG, PNG Text Overlays, & PSD
15 Images – Instagram Size (1080×1080 px) in JPG, PNG Text Overlays, & PSD
15 Images – Pinterest Size (735×1102 px) in JPG, PNG Text Overlays, & PSD
15 Images – YouTube/Slide Size (1280×720 px) in JPG, PNG Text Overlays, & PSD
15 Coordinating Pep Talks
The Perfect Image Tutorial/Resource Guide
Excel Tracking Sheet
If you hired someone to create this package of 75 images and corresponding content exclusively for you, it would cost a small fortune! Let's not even talk about the countless hours you would spend figuring out the tips and tricks that we've put in the Perfect Image Tutorial and Resource Guide!
Are you ready to position yourself as an influencer with encouraging, ready-to-go content to share across multiple social media networks?
CLICK "ADD TO CART" TO GET STARTED TODAY!



It's easy to be seen everywhere and look good doing it with this package!

P.S.
You can put your name or logo on every poster and use them as your own. Don't wait another day to put a little PEP in your blog and social media accounts!
---
PRIVATE LABEL RIGHTS:
You may publish these graphics anywhere that allows PLR content – please note, some publishing platforms are not open to it. (For example, Amazon does not permit PLR content in Kindle books.)
RESTRICTIONS:
* Perfect Image Tutorial & Resource Guide is for YOUR PERSONAL USE only.
* The editable Word documents and PSD files are for your own use only.
DO NOT give or sell the entire package to others
DO NOT pass along any regifting, reselling or Private Label Rights to others
DO NOT sell on auction sites