Our goal is to help you encourage, motivate and inspire others. Creating content for your website, newsletters, social media networks, podcasts, videos, etc. is hard work! When you feel bogged down with activities that feel like a waste of time, it's a challenge to remain positive, much less encourage others.
We can help you put a little positive pep in someone's day with our social friendly graphics full of encouragement and motivational messages. Our PLR is unique in that it doesn't just give you one set of social friendly graphics. We design 5 sizes so you can easily share on Facebook, Twitter, Instagram, Pinterest, and Youtube! We make it possible for you to be everywhere at once and look good doing it.  😉
Pep Talk PLR can:
Save precious time that you can spend motivating and encouraging others
Provide positive encouragement in graphic, text, audio, and video formats
Help you position yourself as an influencer with ready-to-go content to share across multiple networks
We look forward to helping you put a little PEP in your content so you can focus on what you do best… cheering others on!
Meet the Team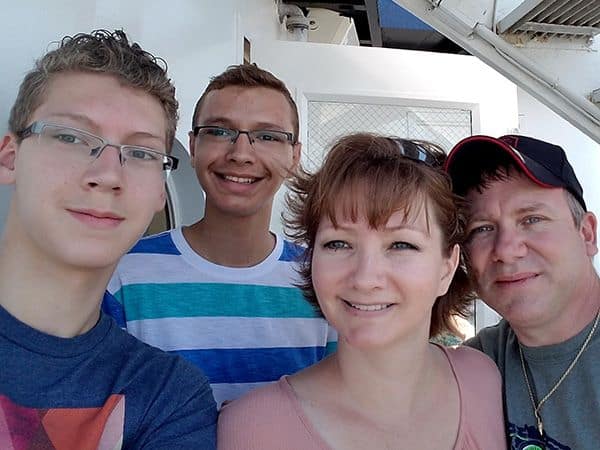 PepTalkPLR is a family business operated by 'chele Neisler and teen sons, Tristan and Levi.
'chele started tinkering online before either boy was born, but she truly focused on creating an online income once the boys came along. It's almost fitting that the same two diaper-clad rugrats that played under her desk (and sometimes unplugged the computer) would someday start a business with their mom to fund a trip to Space Camp!
Tristan generally works behind the scenes at Pep Talk PLR and helps with content planning and creation. Levi owns that amazing male voice you hear in the Pep Talk PLR audio products. He also edits the audios and compiles the videos. 'chele creates the graphics and manages the team of three.
'chele has always been an avid encourager of friends and family. Giving a pep talk is just part of her nature. She currently homeschools Tristan and Levi while enjoying the last few years of having children at home.
Tristan and Levi serve as volunteer attorneys for the local Teen Court program that gives troubled teens a second chance. They are currently obedience training and "raising" an American Bully and a ferocious chihuahua their mom rescued from local animal shelters.
Both boys are following in their mom's footsteps as encouragers. Tristan is often giving pep talks to others, including his mom and brother. Levi is the class clown and brings a smile to everyone's face.