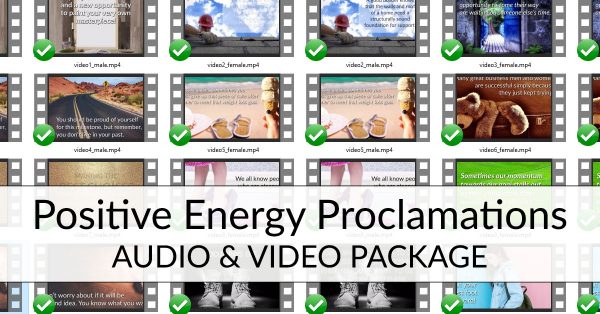 Audio and video are important aspects of being "everywhere at once", so we created audio and video versions of the POSITIVE ENERGY PROCLAMATIONS SOCIAL POSTERS & PEP TALK PACKAGE to help you take advantage of the preferential treatment given to videos on social media networks!
Let's take a look at the components of this PLR package and the possible ways it can enhance your online presence :
15 PEP TALK VIDEOS (MALE & FEMALE)
This Positive Energy Proclamations audio and video package includes 15 encouraging short videos in both male and female narration. Each video is under a minute long which makes them perfect for sharing on social media.
That's 30 videos total plus a bonus smash-up video of all proclamations in both voices! (Bonus smash-up video is 1 minute 39 seconds long)
CHECK OUT THESE PEP TALK VIDEOS:
Our logo won't be on the videos you purchase. Imagine how great YOUR logo will look there! You can easily add your own logo in PowerPoint or other video editing software you may own.
If you like the videos as they are, simply open PowerPoint, insert the MP4 video,
add your logo in the desired position, resave as an MP4, and upload it to the internet!
We're including PowerPoint slides to make customizing/branding of each video a breeze in case you want to add more information or record with your own voice!
POSSIBLE USES OF PEP TALK VIDEOS:
Upload the videos to your YouTube channel to create a motivational playlist.
Add them to your Facebook fan page. Facebook's algorithms LOVE videos!
Twitter videos can't be longer than 2 minutes 20 seconds, so the bonus smash-up videos are PERFECT!
Pin these videos to your Pinterest boards. Yes, you can pin videos!
Instagram videos should be under a minute long. Each of the 15 Pep Talk videos provides quick, encouraging content for potential followers!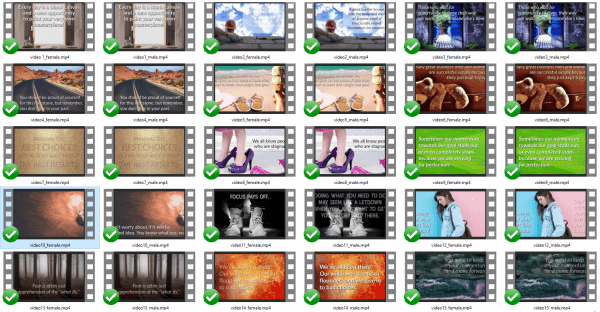 15 PEP TALK AUDIOS (MALE & FEMALE)
You'll receive MP3 audios for each of the 15 pep talks in both male and female narration. That's 30 audios total plus a bonus smash-up audio of all proclamations in both voices!
We'll even throw in the audios of the proclamations separately so you can customize your own smash up audio or videos!
POSSIBLE USES OF PEP TALK AUDIOS:
The pep talk audios will make perfect segues on podcasts or even a mini-episode to keep your listeners motivated between regular podcast episodes.
These audios files make it easy for those that don't like the sound of their own voice. Now there are no more excuses not to have your own short motivational audios!
Combine several of the 15 Pep Talk audios with background music to create one longer smash-up audio for your podcast or meditation soundtracks!
PLUS, 2 TRACKING SHEETS:
1 FOR AUDIO AND 1 FOR VIDEO!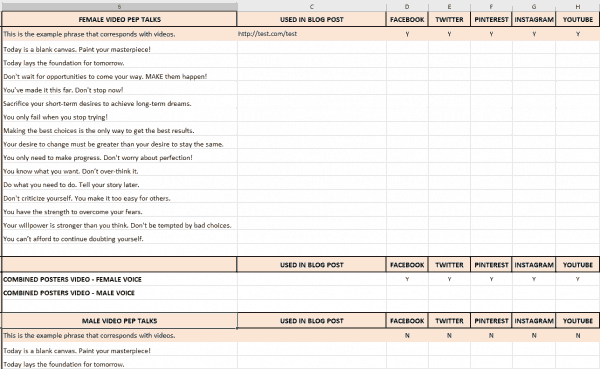 Keep track of when and where you've used the audios and videos.
Make sure every single piece of content is used to maximize exposure.
LET'S RECAP WHAT'S INCLUDED:
15 Pep Talk Videos (Each In Male & Female Narration)
File Formats: MP4 and PowerPoint files for customization
Bonus Smash-Up Video of Proclamations (In Male & Female Narration)
File Format: MP4
15 Pep Talk Audios (Each In Male & Female Narration)
File Format: MP3
Bonus Smash-Up Audio of Proclamations (In Male & Female Narration)
File Format: MP3
Tracking Sheets: 1 for audio and 1 for video
File Format: Excel
You'll be set to motivate and encourage in every way possible now. Well, just short of showing up in person!
Don't underestimate the value of audio and video. Everyone is different. Some people prefer to watch videos while others prefer to listen while they work. Seeing and hearing a pep talk can really make a difference in those cases!
You could outsource graphics, audio, and video, but only if you had enough time to find the right people and enough money to pay them to do all of these things for you.
Let's face it, sometimes dealing with several people with different skills to get everything done is more painful than doing it yourself (ask me how I know)! Thank goodness I've already organized this team for you. 😉
You can take a huge shortcut today and take advantage of our time and hard work for the low price of $19.99!
So what are you waiting for? Let's do this already!



It's easy to be seen everywhere and look good doing it with this package!
P.S.
Don't miss this chance to add audio and video encouragement to your "social cheerleader" toolbelt! Just click the "Add to Cart" button above!
P.P.S.
Your readers need more stimulation than graphics and text. Fill their need to be motivated with audio and video!
---
PRIVATE LABEL RIGHTS:
You may publish the audios and videos anywhere that allows PLR content – please note, some publishing platforms are not open to it. (For example, Amazon does not permit PLR content in Kindle books.)
RESTRICTIONS:
* The editable PowerPoint files are for your own use only.
DO NOT give or sell the entire package to others
DO NOT pass along any regifting, reselling or Private Label Rights to others
DO NOT sell on auction sites