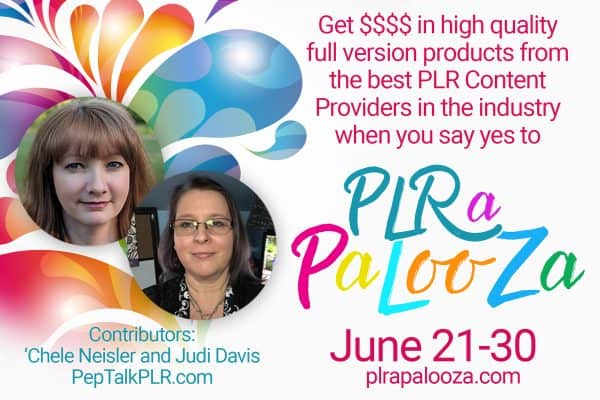 Something fun and exciting is happening in the Content Marketing world, and trust me, you can't afford to miss it. Two of our favorite PLR provider teams – Tracy & Susanne from Piggy Makes Bank and Kelly & Sam from White Label Perks are putting on the first ever PLRaPaLooZa from June 21st through the 30th.
What's a PLRaPaLooza you ask? Great question! Here's a quick rundown. You'll have access to some great pre-written content to boost your summer content marketing. At the same time, the idea is to introduce you to a bunch of awesome PLR providers and give you a chance to try something from their stores that you can actually use.
To make this event even more fun and helpful, Kelly is interviewing quite a few of the PLR providers, who also happen to be awesome marketers. The end result is an entire vault of great tips and training to help you step up your content marketing game.
Here are a few of the PLR providers involved in the PLRaPaLooZa:
Alice Seba
Justin Popovic & Ted Payne
Tiffany Lambert
Nicole Dean
Trish Lindemood
Kate Rieger
And… Judi and me ('chele)
This PLRaPaLooZa Bundle & Summit Event includes 27 PLR coupons or PLR packages that total up to $1370 of value in PLR products!
Seriously, don't miss this offer! Check out all the details!
The price of admission is $47 which is an absolute steal considering you get over $1,000 in pre-written content (assuming you're downloading a package from every single pre-written content provider participating), as well as some amazing training interviews. Most of the interviews are exclusive to PLRaPaLooZa customers.
I'm sure you'll recognize some big names on this list, but don't miss out on the people you don't know yet. You may just find your favorite new source for PLR content that's perfect for your niche and needs.Check out the 23 PLRaPaLooZa contributors!
BTW…
If you've been eyeing content from us, we've included a coupon for $27 towards any content at Pep Talk PLR! So what are you waiting for? This is a WIN/WIN situation! ??