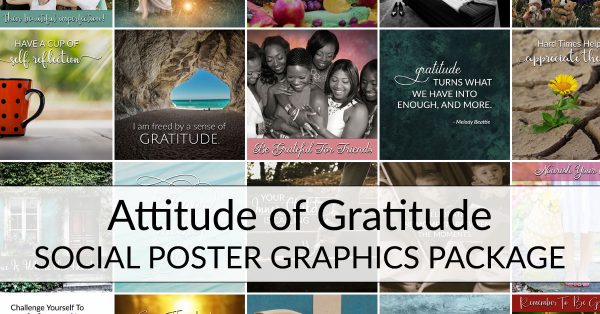 This package of Attitude of Gratitude Social Posters contains 25 done-for-you, ready-to-use social media optimized images you can use to inspire an attitude of gratitude in your audience! These social poster graphics are perfect for posting to Instagram, Facebook, Twitter, and/or your blog.
THIS PACKAGE INCLUDES:
25 Images (1080×1080) in JPG format
Use images on your blog and social media.
25 Text Overlays (1080×1080) in PNG format
Use PNG text overlays with your own background images.
25 PSD files (1080×1080)
Use PSD files to edit everything – including text and font.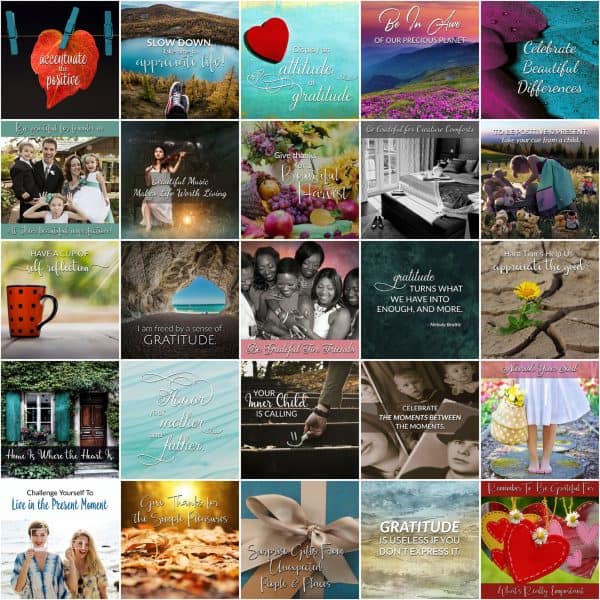 Click To Enlarge Sample Image
TEXT ON SOCIAL POSTERS:
Accentuate the Positive
Slow Down. Take Time to Appreciate Life!
Display an Attitude of Gratitude
Celebrate Beautiful Differences
Be Grateful for Family in All Their Beautiful Imperfection!
Beautiful Music Makes Life Worth Living
Be in Awe of Our Precious Planet
Give Thanks for a Bountiful Harvest
Be Grateful for Creature Comforts
To Be Positive and Present, Take Your Cue from a Child
Have a Cup of Self Reflection
I am Freed by a Sense of Gratitude
Be Grateful for Friends
Gratitude Turns What We Have Into Enough and More
Hard Times Help Us Appreciate the Good
Home is Where the Heart Is
Honor Your Mother and Father
Your Inner Child is Calling
Celebrate the Moments Between the Moments
Nourish Your Soul
Challenge Yourself to Live in the Present Moment
Give Thanks for the Simple Pleasures
Surprise Gifts from Unexpected People and Places
Gratitude is Useless if You Don't Express It
Remember to Be Grateful for What's Really Important
POSSIBLE USES:
Create a 30 Day Gratitude Challenge on your blog or Facebook group
Load into to your social media scheduler and take a little time off
Brand each image and boost the post to gain more followers and brand exposure
Use each graphic image as inspiration for blog posts
Send them out in your email newsletters
Repeat everything above as often as necessary
HOW TO BRAND/PERSONALIZE:
Add your logo, name, or URL with Photoshop, Canva, PicMonkey, etc.
Use a different photo or background color and the text overlay files with Photoshop, Canva, PicMonkey, etc.
INSPIRE AN ATTITUDE OF GRATITUDE TODAY!
Are you excited about the possibilities this social poster graphics package provides?
Are you ready to motivate and inspire your audience?



Don't waste another moment… grab this package now!

P.S.
You can use this package of social posters with your own content or upload them directly to your social media feeds as stand-alone content. You may also be interested in the Attitude of Gratitude Challenge from Wordfeeder that these social posters were created to complement.
---
PRIVATE LABEL RIGHTS:
You may publish these graphics anywhere that allows PLR content – please note, some publishing platforms are not open to it. (For example, Amazon does not permit PLR content in Kindle books.)
RESTRICTIONS:
* The editable PSD files are for your own use only.
DO NOT give or sell the entire package to others
DO NOT pass along any regifting, reselling or Private Label Rights to others
DO NOT sell on auction sites